Rail Minister inaugurates Sindhudurg leg of Science Express
By TIOL News Service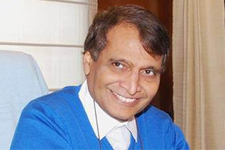 NEW DELHI, JULY 17, 2017: THE IX Phase of the prestigious Science Express exhibition train which is on a Nationwide tour since February 17, 2017 reached Sindhudurg in Maharashtra today. This phase of train is being referred as 'Science Express Climate Action Special (SECAS)' highlighting the global challenge of climate change.

Minister of Railways Suresh Prabhakar Prabhu inaugurated this Sindhudurg leg of Science Express today through Video Conferencing from Delhi. SECAS is focusing on Climate Change and Science & Technology. The exhibition conveys message about Climate Change and is also a good opportunity to generate dialogue and discussion. This exhibition train will be available for public viewing at Roha Railway Station on 18th July and after that at Mumbai CST from 19 to 22 July 2017, then the train will move forward to next destinations as per its itinerary.

Science Express is a flagship programme of the Dept. of Science & Technology (DST). It is an innovative mobile science exhibition mounted on a 16 coach AC train, traveling across India since October 2007. Since then, it has made eight tours of the country, traveling about 1,53,000 km and exhibiting at 495 locations. Over its 1712 exhibition days, Science Express received an overwhelming response and 1.64 crore visitors. Science Express has become the largest, the longest running and the most visited mobile science exhibition and has twelve entries in the Limca Book of Records.

Science Express Phase I to IV showcased cutting-edge research in Science and Technology being carried out worldwide. Phase V to VII was based on the theme of biodiversity and as 'Science Express Biodiversity Special (SEBS)', it showcased the rich biodiversity of India and its conservation measures. Phase VIII as 'Science Express Climate Action Special (SECAS)' highlighted the global challenge of climate change.